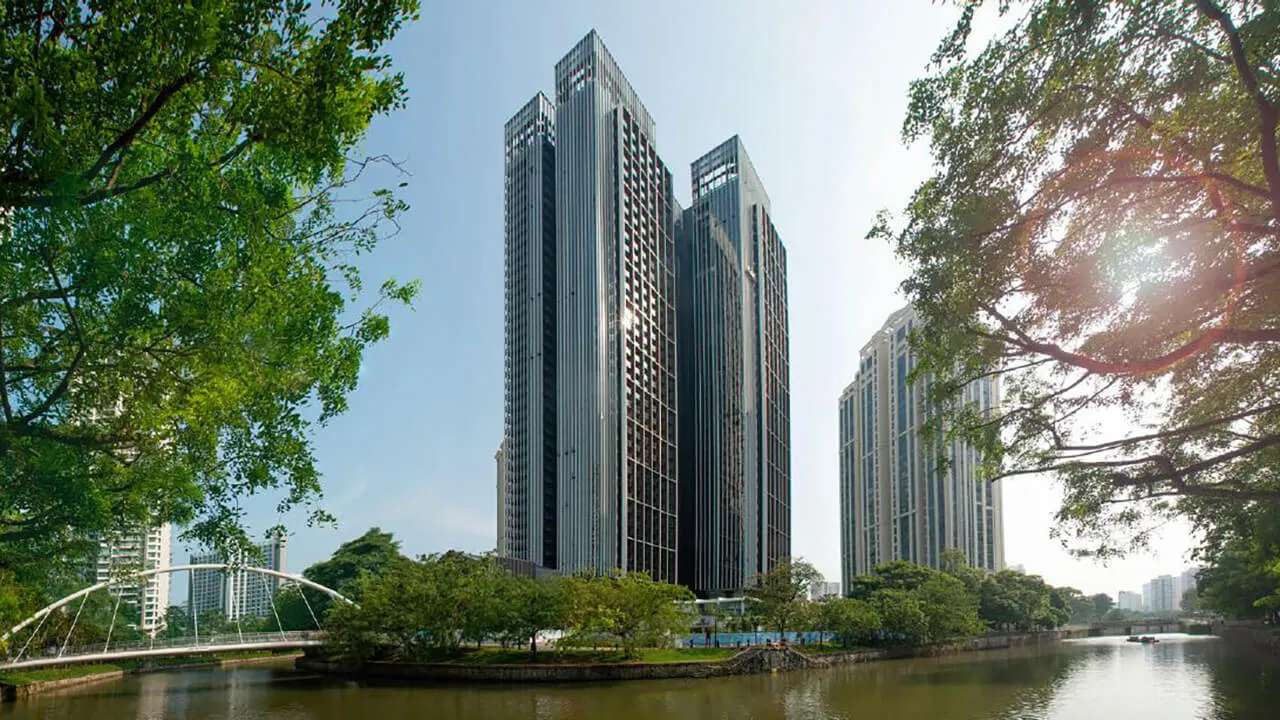 Riviere Condo Official Site
Iconic Development along Singapore River
---
Riviere Condo Latest Unit Sold :
#35-03 (1 Bedroom), #36-03 (1 Bedroom), #35-01 (3 Bedroom),
#32-05 (3 Bedroom), #36-05 (3 Bedroom), #34-05 (3 Bedroom),
#33-01 (3 Bedroom), #33-07 (3 Bedroom), #35-05 (3 Bedroom)
---

As The Riviere Condo is fully sold, explore more real estate options with Current New Launches, or browse the archives of Fully Sold Projects.
01-05-23: Get the Best Exclusive Price & Discounts from our Developer Sales Staff, only by prior appointment here.
01-05-23: Our Riviere Price Chart & Riviere Balance Unit Chart is now updated and available here.
Latest Unit Availability: Last 0 Units
1 Bedroom : 0 / 70
2 Bedroom : 0 / 140
3 Bedroom : 0 / 210
4 Bedroom : 0 / 35
20-08-20: In accordance with Government Regulations in the midst of the COVID-19 situation, our showflat will only be accessible by appointment. View our Virtual Showflat Tour and Make an Appointment to view our actual showflat.
20-08-20: Use our Riviere Mortgage Calculator to calculate the Downpayment and Monthly Loan Instalment.
---
---
Introduction to Riviere Condo
Riviere Condo is a new luxury development located at Jiak Kim Street, off Kim Seng Road, along the majestic Singapore River. Developed by one of Singapore's most reputable and largest developers, Frasers Property Limited, Riviere Condo offers a blend of legacy and modernity with its exceptional architecture.
RIVIERE – Bridging Legacy and Modernity. The Centerpiece of the River.
The development consists of two 36-story towers comprising a total of 455 luxurious residential units. The land size of 64,799 sq ft provides ample space for communal facilities and community building. Residents can enjoy various facilities such as Lap Pool, Sun Deck, Aquatic Garden, Library Lounge, Gymnasium, River Lawn, Promenade Plaza, BBQ Dining Pavilion, Herb Garden, Sky Bridge, Trampoline Play, Sky Lawn, and Sky Spa on the Sky Deck.
Exceptional Location
Riviere Condo's location is ideal for city dwellers, with Great World City MRT and Havelock MRT Stations within a 10-minute walk away. Major arterial roads and expressways such as Outram Road, Havelock, and Central Expressway CTE are nearby, making it convenient for drivers.
Great World City Shopping Mall is at the doorstep, while Orchard Road Shopping Belt is within a 5-minute drive away. Food choices are never boring around Riviere, with day to night dining experiences at Clarke Quay, Roberson Quay, and the Central Business District.
The condominium is also close to many international galleries and museums such as the National Gallery, Asian Civilisations Museum, Esplanade, and the Victoria Theatre and Concert Hall.
Attractive Price and Floorplan Layout
Riviere Condo offers a wide range of floorplan layouts and unit sizes, from 1 Bedroom Units (560 sq ft) to a spacious 4 Bedroom Unit (2,002 sq ft). Homeowners can choose from high floor panoramic views of the Singapore River and City or Swimming Pool views.
Riviere Condo Development is very attractively priced. With Frasers Property's reputation and expertise, and the luxurious imported fittings used in the development, purchasers can be assured of an outstanding quality development that has good value.
Editor's Review: Riviere Condo is an ideal development for families and expatriates who love to be in the bustling city center. With its exceptional location, attractive pricing, and floor plan layout, residents can enjoy a luxurious lifestyle with all the conveniences of urban living. Riviere Condo is set to be an architectural sculpture masterpiece and an icon of the next phase of Singapore's growth and success.
Contact Us for Riviere Condo Showflat
Our Riviere Showflat & Actual Units are available for viewing by appointment (10am – 7pm). Do contact us to make an appointment.
---
Riviere Condo Location Map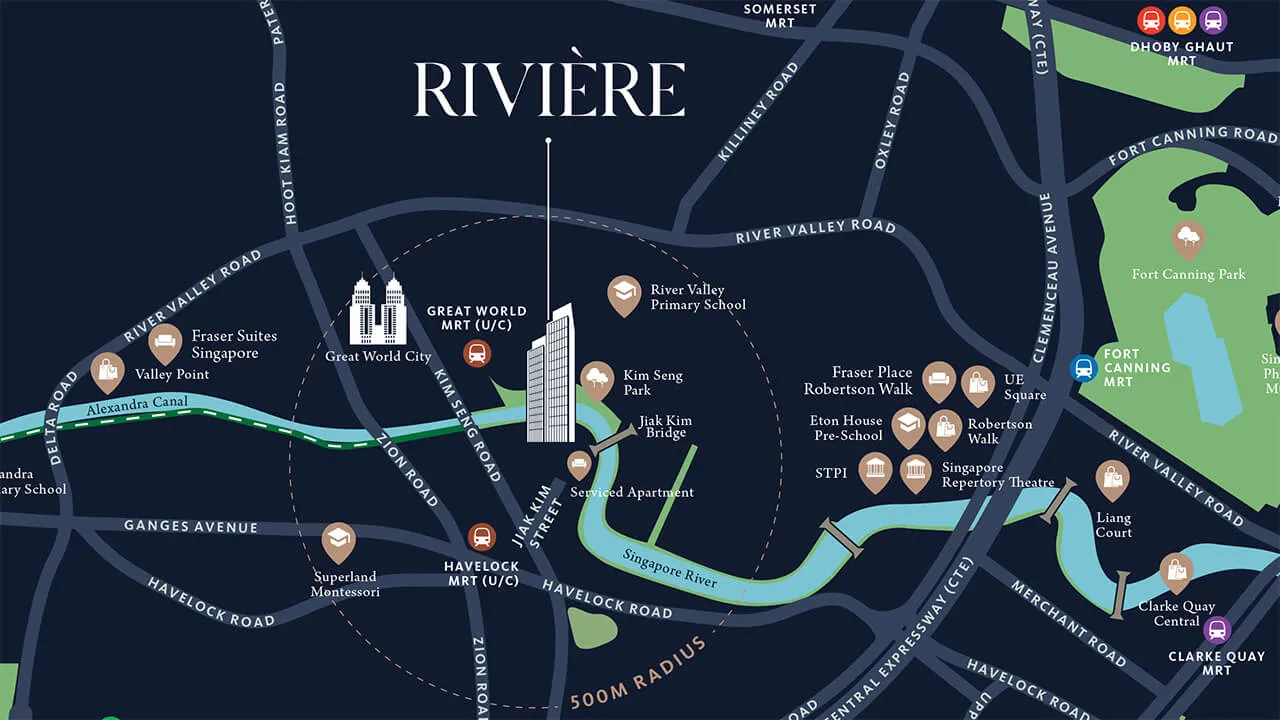 Click Here for Enlarged Riviere Location Map
---
The Riviere TOP Completion

The Riviere Condo has achieved TOP Completion and Key Collection is underway.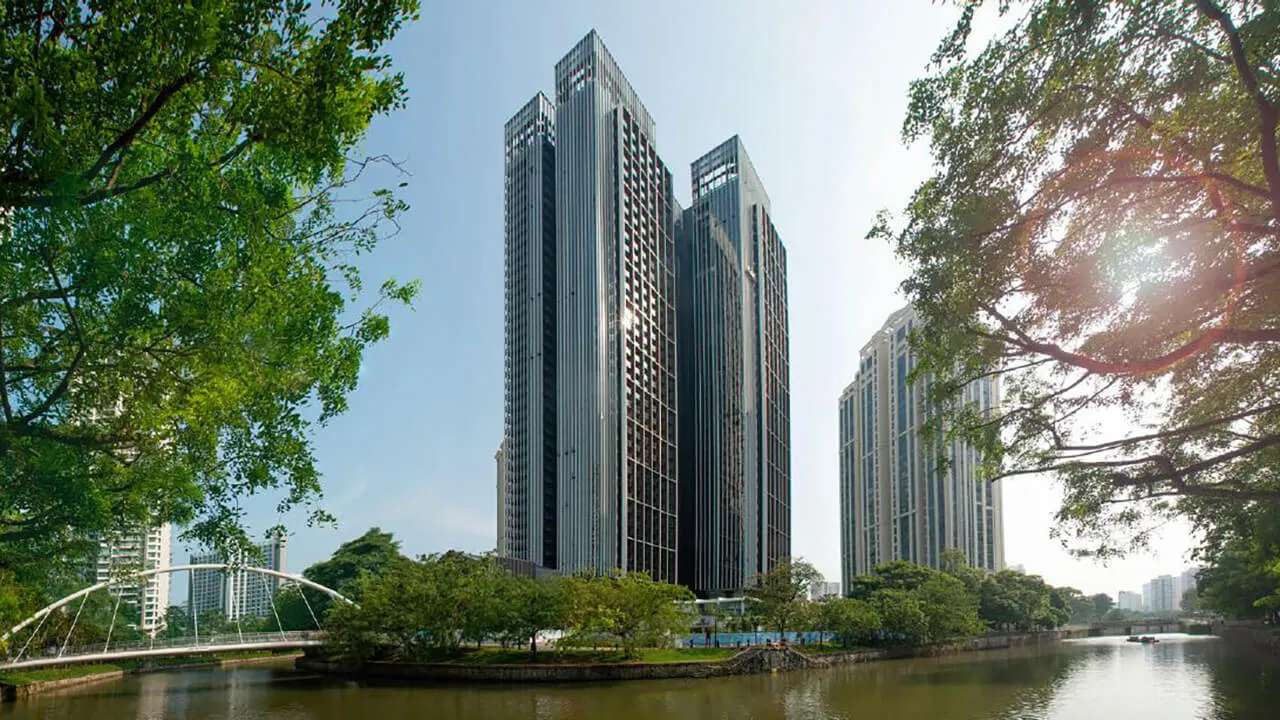 ---
The Riviere Project Info
| Project Name: | RIVIERE |
| --- | --- |
| District: | 3 |
| Developer: | Fraser Property Quayside Pte. Ltd. |
| Address: | 1 - 3 Jiak Kim Street |
| Tenure: | 99 years leasehold wef. 07 Mar 2018 |
| Site Area (Residential) : | 6,020 sqm / 64,799.28 sqft |
| Type of Development: | Private Development |
| No. Of Units: | 455 Residential Units |
| No. of Blocks/Storeys: | 2 Blocks of 36-Storey Residential Development |
| No. Of Carparks (Residential): | 364 Carpark Lots and 4 Handicap Lots |
| Plot Ratio: | 3.8 |
| Project Architect: | P & T Consultants Pte. Ltd. |
| Design Architect: | SCDA Architects Pte. Ltd. |
| Landscape Consultant: | Sald Pte. Ltd. |
| Main Contractor: | Woh Hup Pte. Ltd. |
| C&S: | KTP Consultants Pte. Ltd. |
| M&E: | J Roger Preston (S) Pte. Ltd. |
| Interior Designer: | SCDA Architects Pte. Ltd. |
| Showflat Designer: | SCDA Architects Pte. Ltd. (1/2 Bedroom) & Peter Tay (3/4 Bedroom) |
| Conservation Specialist: | Studio Lapis Conservation Pte. Ltd. |
| Façade Consultant: | Meinhardt Façade Technology Pte. Ltd. |
| Lighting Consultant: | The Lightbox Pte. Ltd. |
| Conveyance Solicitor: | Dentons Rodyk & Davidson LLP |
| Facilities: | Aquatic Garden, Library Lounge, River Lawn, Riviere Gym, Lap Pool, Dining Pavilion, Promenade Plaza, Sky Bridge, Sky Law, Sky Spa, Club Riviere |
| Developer Licence: | C1331 |
| Project Account No.: | OCBC Bank Ltd for Project A/C No. 712-647247-001 of Fraser Property Quayside Pte. Ltd. |
| Expected Date of TOP: | 7-Mar-23 |
| Expected Date of Legal Completion: | 7-Mar-26 |
Riviere Condo
Proudly Developed By:
---